When summer faded, and his Senior year of school began, Joseph (JC) Wentz, like many of his peers, had to figure out a perfect balancing act. There are family commitments, friend time, homework and two fall sports. You read that correctly-two fall sports. Unlike his peers, Wentz played not one, but two fall sports as an Amery Warrior. He scored a season of soccer and tackled a year of football all at the very same time.
Wentz said he started playing soccer in Kindergarten and has always enjoyed it. From third through eighth grade, Wentz also played football as many of the younger athletes do. Before reaching the high school level, soccer is played in the spring and football in the fall, allowing kids to experience both, but also leaving some with the agonizing decision of what to choose for their high school years as both sports are played in the fall.
When Wentz entered high school, he said the decision of choosing his sport was a tough one, but he decided soccer was the one and he has loved it. He said this year's soccer season was especially enjoyable as there were so many fun people.
"A few weeks into the fall sports season, after soccer practice, I was over by the football field kicking a football around, just for fun really. They called me over to their practice and asked me to kick for them. I did, and they said, 'Alright let's suit you up' and I was at the next game," said Wentz.
Jeff Fern Assistant Principal and Athletic Director for Amery High School said Playing two WIAA sports at the same time is uncommon due to the conflicts that sports have in terms of practices and competitions. "Being the kicker on the football team and the goalie on soccer team is one of the rare occasions where an athlete would be able to make this work. On top of being a dual sport athlete this fall, JC was also preparing for one of the main roles in Mary Poppins. JC is a talented young man both in and out of the classroom and he has displayed this throughout his high school career," said Fern.
Wentz took on the role of George Banks in the school's production of Mary Poppins, which led to three evenings of play practice during the week, on top of his sports practices.
He said some days consisted of soccer after school until 5:00, then football, followed by play practice at 6:30. "I was grateful for people bringing me food in between all of my stuff," said Wentz.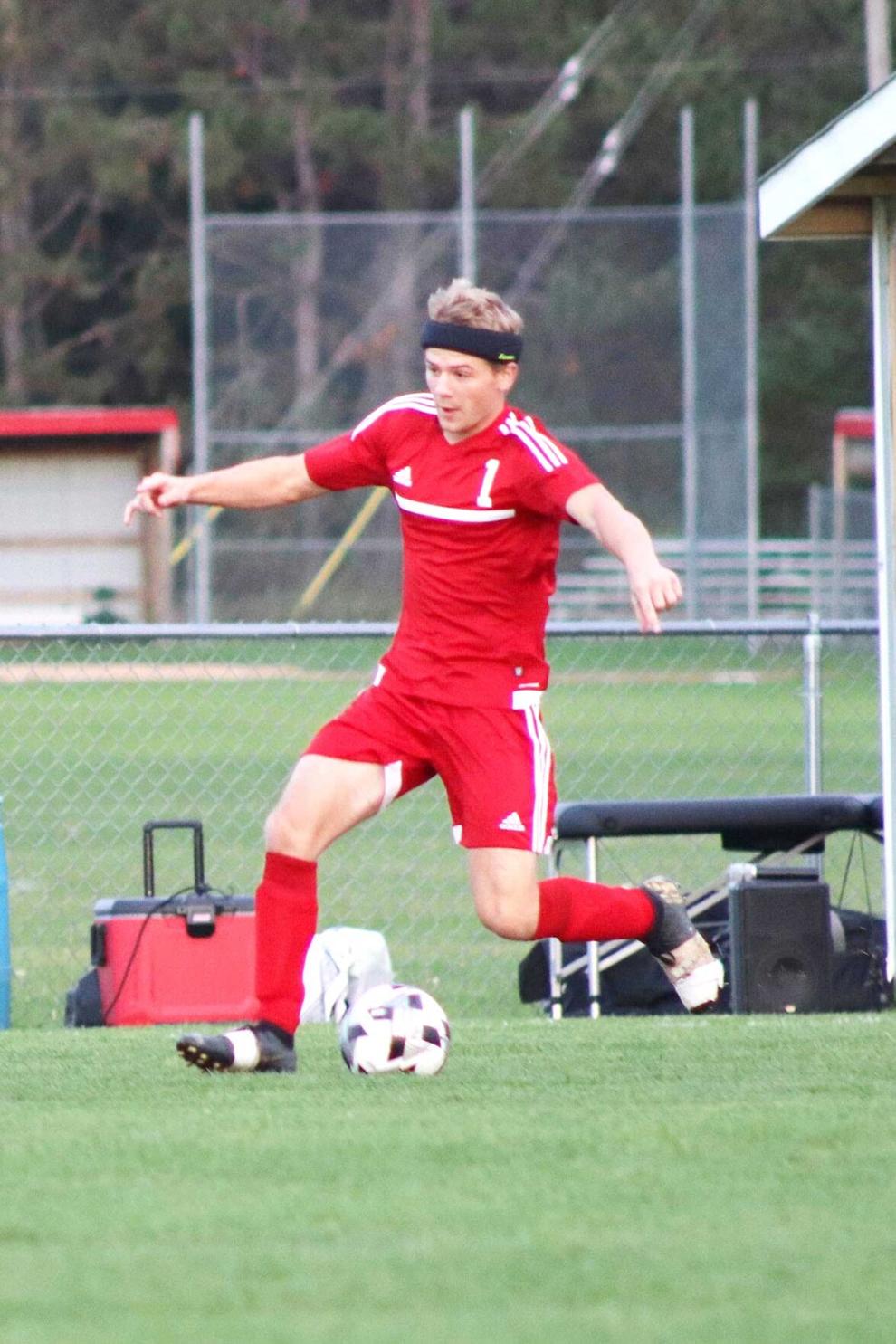 His soccer coach, Chris Boyd said, "When JC asked if he could help the football team, I wasn't surprised that he wanted to help classmates out, and I wasn't worried about JC abandoning soccer; it's not the kind of person he is. JC did a great job of balancing his commitment to the soccer team and football team throughout the season, and as the season ran down he added being a major role in the school musical to the mix. I don't know many students who can handle being a student, playing for two sports teams, captaining one, and being in the musical without missing a beat-but that's JC."
Wentz's football coach Ryan Humpal said, "The part that impressed me the most about JC was how determined he was to develop himself into a good kicker for us on Friday nights. The first few weeks he decided to join us; you could find him on the football practice field kicking by himself for an hour a night after soccer and football practice ended. This goes to show how determined and driven JC is as a young man, he did all of this while juggling a large role in the school musical."
Humpal said Wentz always came over to practice with a big smile on his face and ready to go.  He said, "He would hop into the team portions hit his kickoffs and drive home field goal after field goal.  It was awesome how accepting the rest of the football players were to have JC join us each week."
"As coaches we debated for a couple weeks after JC joined us if we were going to have punt for us as well; we would watch him in practice hit punts of 50 yards or more.  JC one day finally asked, 'When you going to let me punt, I got no problem getting hit.' Once again, he was able to juggle everything and do a fantastic job for us on Friday nights punting.  My best memory of JC punting; he got hit real hard on a punt return and he came off with that same smile on his face.  You could tell he just loved to be competing no matter if it was in net for the soccer team or punting and kicking for us on Fridays," said Humpal.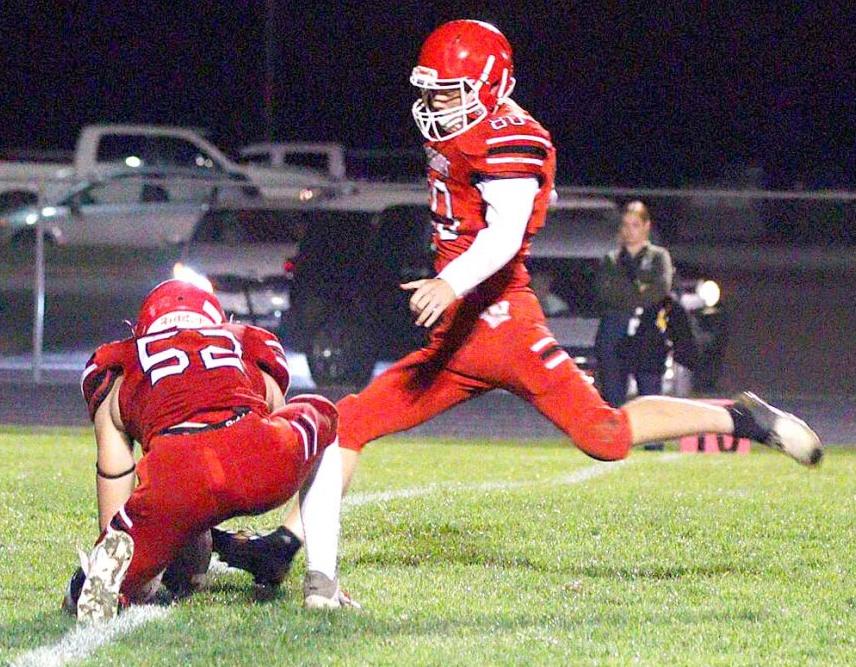 His football coach said overall, it was a great experience for JC and one he is glad I got be a part of. "His first field goal he hit at the end of the half vs Arcadia you would have thought it was the game winner. For how loud the stands got and how much excitement it brought to the sidelines," Humpal said.
Coach Boyd agreed with Coach Humpal's sentiments. "JC Wentz is an incredible athlete, but even more importantly he's an incredible young man. He stepped into the role of goalkeeper at a young age because it was a job he saw needed to be done; he could have played anywhere out on the field with his athletic skill, ability, and intelligence. But it's those same qualities that made him such a great goalie. On the field, he leads from the back, communicating with the defense to work together, and offering encouragement to the entire team."
Boyd said in the last game of the season, at halftime, JC brought the team together and gave them a pep talk. "We went out and fought through the second half of a very tough game. That's representative of JC through the whole season; encouraging when we were doing well, supportive when we struggled. As a younger player expressed interest in learning to be a goalkeeper, JC took him under his wing, watching as he played and offering pointers, and talking with him during practice about where to be, how to think. He shoulders responsibility without being asked, leading by example and in his words," said Boyd.
"I can't say enough good things; he's the kind of player every coach wants on their team both in terms of athletic ability and attitude. His attitude, leadership, and play on the field will all be missed," Boyd said.
Wentz was grateful throughout the season for the support of his coaches; parents, August and Lynette and his brother Gus. He said he also found it "really cool" that his soccer teammates would come cheer him on at football.
He said playing both sports has been the absolute best part of his Senior year. "It brought back memories of my childhood to be able to do both. It also made me feel like I was being a role model for others," he said.
In terms of advice for younger athletes, Wentz said, "Remember there are always other people out there working harder than you. Always try to do your very best."
When the weekend rolls around, it is relax time for Wentz. He said, "I never get a chance to relax during the week, so every moment I can take on the weekend to watch a movie, play video games or go fishing; I do it."
Wentz has enjoyed growing up in the Amery community and attending school here. "People are always here to support you and it is wonderful," he said.
After graduation he plans to pursue a military career, but he still has six months left to experience everything else his senior year has to offer.
Next up for Wentz is wrestling. He has a great outlook for the upcoming season. Wentz said, "I think we have a great team and I believe we can take the Team State title again. It might even be better than last year."
Returning to the champion Warrior wrestling team will likely keep Wentz quite busy, but who knows, maybe this talented athlete will find time to sneak in on the basketball court? It sounds like if anyone could do it, JC Wentz could.