Amery's very own Michael Elbing has been living a double life. The 2014 AHS grad has spent the last few years moonlighting as UW Madison's Bucky the Badger.
Elbing said, "In high school I loved athletics and played tennis, basketball, and soccer which led to me being awarded scholar athlete in 2014. I wasn't good enough to play D1 sports anywhere, so I decided to hide behind a mask and be a D1 mascot instead!" He shared his two 
Bucky: Elbing cannot say enough about how the Bucky experience changed his life sisters, Rachel and Sarah, really influenced his decisions; along with his mom and dad, who he said, "Made me the person I am today."
What Elbing loved most about growing up in Amery was because of the small community, he got to be close with so many different people in school, my church or through volunteering. He said, "Amery will always hold a special place in my heart because I have so many relationships that have been built there."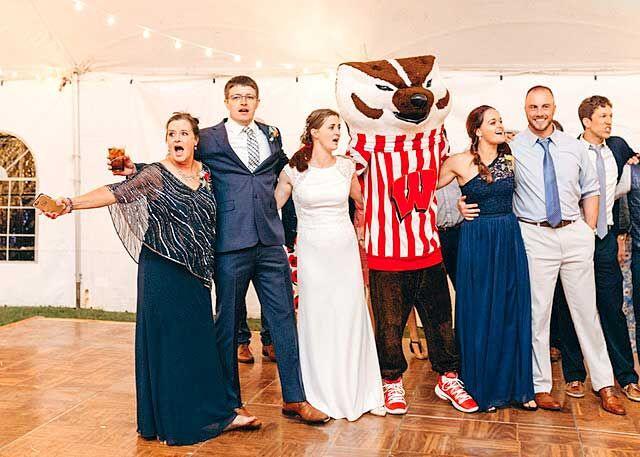 Elbing's father and both of his sisters went to UW Madison, so he decided to follow in their shoes. "My sisters are 8 and 10 years older than me and were both in the UW-Madison marching band, so we would go down and watch them at the football games every weekend. I have always been a die hard Badger fan and those close to me will tell you that I'm not the most pleasant person to be around if the Badgers lose a game. I couldn't see myself going anywhere else," he said.
He didn't just stumble upon the Bucky gig. He said, "As I stated before, my sisters were both in the band, and one of their friends who happens to be from Osceola was a Bucky at that time and I always looked up to him because of that. I always loved watching Bucky at the games and it had always been on the back of my mind that if I applied and got in to Madison I would want to be Bucky. It was pretty much a Cinderella story since I tried out both my Freshman and Sophomore years and got denied. I thought 'why not' my junior year and I finally made it. Little did I know that my life would be changed forever because of that decision."
He explained the whole Bucky interview process takes three days to complete. The first day there are four different stations: Pushups, dancing, props, and role playing where you get to put on the Bucky head and act out a scene that is read to you. If you make it past that round, the next day you have a skating tryout since Bucky does all of the Mens and Womens hockey games. The third day you have to make your own skit and have an interview with a panel to see if you are a good fit. The final tryout is on a Wednesday and you find out if you made it shortly after the tryout. Elbing said, "That Wednesday night in 2017 changed the rest of my life."
How secretive does Bucky need to be? "As much as I wish I could say that no one else knew besides my family and a few close friends that just wouldn't be true. I told about five people the night that I made the team and it just spread like wildfire. I don't want to blame anyone, but Paul and Becky Elbing may have told a few extra people and in a town like Amery it doesn't take long before everyone finds out!  I didn't tell any of my friends at college though because it made it so much fun if I saw them when I was Bucky because I could mess around with them and they would have no clue who it was," he said.
Elbing feels most people do not realize how much Bucky does outside of Football and Basketball. "But the reality is that those two sports are barely a fraction of what he does. Bucky does about 800 events a year and there are eight of us on the team, so I did about 100 events each of the three years I was on the team. Of course everyone loved being on top of the pushup board in Camp Randall having 80,000 people count your pushups for you, but some of my favorite events I did had nothing to do with the university at all. Bucky made appearances at charity events, elementary schools, around campus, weddings and even celebrations of life," said Elbing.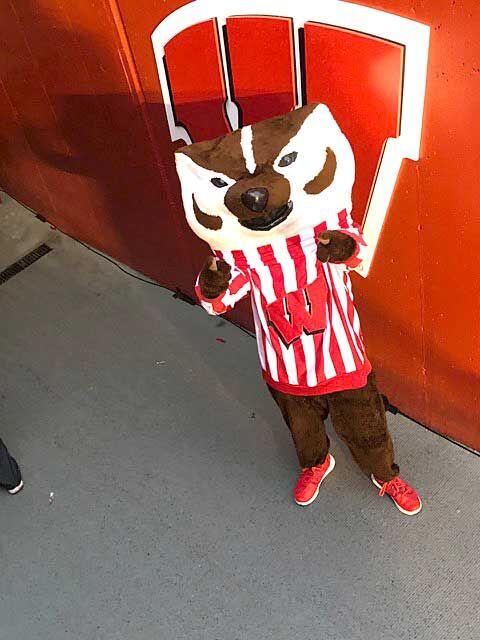 He said another major thing that the Bucky team does every year is competing at Mascot Nationals. Every year they film their events and submit them to a committee to be judged. They get their nationals ranking in November and then from November to January, they put together a two-minute skit to perform. The competition takes place in Orlando at Disney World. He said, "We spent about 10 hours a day making props and coming up with different ideas for this performance in order for it to be the best it could possibly be. If you go to YouTube, you can type in Bucky Badger Mascot Nationals and our products will show up!"
"The best part of being Bucky was all of the different people that you impacted," said Elbing and he shared two of his favorite moments as Bucky. "The first one was actually an event I did at a memory care in Eau Claire Wisconsin.  I knew it would be special because my dad was coming to watch and he was bringing a family friend that was unable to come to any games in Madison because of health reasons. This was the only time she would be able to see me perform in front of people and it really meant a lot to me that she would be there. Little did I know that the event I was doing was for one lady struggling with dementia whose last wish was to dance with Bucky. About 30-40 members of her family were there. I did the event and danced with the woman for a while. As I was behind the Bucky mask dancing, I was looking out at her family members and seeing everyone smile, cry, and laugh as her final wish was happening in front of them. After I got out of the suit, her daughter came up to me and said that this was the most she had seen her mother move in over three years. It truly was the most special event I did and the fact that Bucky made an unforgettable day for an entire family is something I will never forget," he said.
WEAU in Eau Claire did a story on Dolly (the lady with Dementia) and it can be seen here.
A second favorite moment took place at the Homecoming parade on State Street in Madison. Elbing said, "It was toward the end of the parade and all of a sudden a young girl just old enough to walk on her own came SPRINTING out at me (Bucky) in the middle of the street before her mom could grab her. The little girl was wearing a Bucky hat and had a stuffed Bucky Badger in her arms. Instead of walking the girl back to her mom, I decided it would be fun to hold her hand and walk the parade route with her. My mom was at this event as well and she said the girl never took her eyes off Bucky the entire time and it is still my moms phone background to this day! I love touching peoples lives and that was by far the best part of being Bucky, however performing in front of thousands of people is something I never thought I would do, but there truly is nothing like it. I also made such great relationships with the guys on the Bucky team as well as the dance and cheerleading teams. I've gained about 20 people that I consider to be my best friends solely from becoming Bucky."
Throughout the stint, Elbing met other college mascots and professional mascots as well. He shared every summer there was a mascot camp in the Wisconsin Dells that teams across the country would participate in. "Minnesota, Colorado, Kansas, Auburn, Arkansas, Ohio St, literally all the best mascots would come and participate in this camp. The friendships I made with the other mascots was so special and I truly believe I have friends in every state of the U.S. that I could go and visit. I also went to the Mascot Hall Of Fame as Bucky and met the countries best pro and college mascots which was an awesome experience," he said.
When asked to pick a second favorite team to the Badgers, Elbing couldn't do it. He said, "I don't really have a second favorite college TEAM. Mascot? Goldy Gopher, Chip the Buffalo, Brutus Buckeye, and Purdue Pete are my favorites. I actually got to be Chip the Buffalo when I went to visit some of my friends on the team in Denver."
When asked about the Badger's biggest rival, Elbing said with a smile, "It has to be Minnesota with the boarder rivalry. Although for football a rivalry usually means there's competition, which just hasn't been true in the last 20 years."
Elbing is currently still living in Madison and working at Ryan Brothers Ambulance. His goal is to go to Physician Assistant School and obtain my masters in Public Health as well. He said, "After that we will see where the wind takes me! If anyone is curious about anything else and has two-three hours, I can talk about my time as Bucky for hours. I truly cannot say enough about how this experience changed my life."