"Fire and EMS have always held a special place in my heart," said Rick Van Blaricom during the November 4 Regular Meeting of the Amery City Council. Van Blaricom, who currently serves as Council President was honored at the start of the meeting after recently announcing his retirement from the Amery Fire Department and Amery EMS.
Nicole Gullickson from the Amery Area EMS presented Van Blaricom with a plaque for his 48 years of service. "He is going to be missed," she said.
Fire Chief Dale Koehler thanked Van Blaricom for his years of service as well. Van Blaricom served as Fire Chief for 26 years, starting in 1983.
"I have worked with a lot of different people since 1972 who went above and beyond for community service," said Van Blaricom.
Van Blaricom came to Amery on April 29, 1963 and has been serving the community ever since.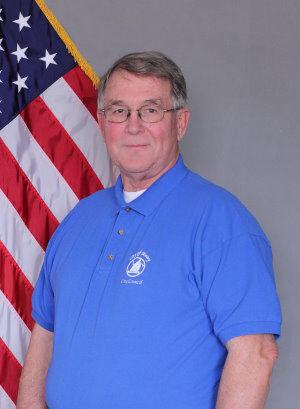 He moved to Amery to work at Fabri-Tec and married his wife Bonnie in June 1964. "I worked with one of the guys who was on the fire department, Jerry and he finally convinced me to get on in the fall of '72," said Van Blaricom.
As far as the ambulance service, Van Blaricom said, "I joined pretty quick. Back then you did not have to be an EMT, there was no requirements. The ambulance service had previously run out of the funeral home. I think it was around '68 when they organized an ambulance service and Don Winchell was the only full time employee, he was the Fire Chief too."
Van Blaricom said when he first started with the ambulance crew, there were basically four or five employees. He said he worked with Stub Porter and Ben and Goldy Jacobson. He said there were times Bob and Chuck Williamson drove, as well as Steve Waterman and Rick Rehm. "At that time you just grabbed someone who could work well under stress. We had three ambulances, I don't know why when there were really only five employees."
He said they were on call 24/7. "There were no pagers. We had a phone bar system. When someone called for an emergency it rang in our houses. There was hardly ever a time when somebody didn't know where I was. If I had to run to the grocery store, my wife could answer the phone and know exactly where I was. It was pretty much your life," he said.
Van Blaricom described the first ambulances he rode in as modified hearses with oxygen and suction. "CPR hadn't even been started yet," he said. "In '75 Amery got their first box type ambulance."
He giggled recalling a time when he backed the truck into the garage and knocked both cherries off of the back. He said, "Naturally I was awarded one of those at the banquet."
There were many good times with great community minded people throughout the years. Van Blaricom said he is concerned though as "The day of the volunteer is done," he said. He said being a volunteer in this community was important to him as it provided comfort for people in emergencies to see a familiar face. "I am not doing anything different than anyone else would do, but you can just see relief in their eyes when they see I am there," he said.
Van Blaricom recalled back to one of the first CPR saves he had. "Every year for eight years after that, I got a Christmas card thanking me. That pretty much made every Christmas special."
Along with the good times, there were hard times too. Van Blaricom said some of the ones that stand out were responding to the scene where a woman he knew had been electrocuted and a triple murder/suicide.
Van Blaricom's children followed in his footsteps working with the EMS and Fire Department. They witnessed their father assist many families throughout the years. In a tribute to his dad on social media, Darren Van Blaricom recently posted, "We hear lots of people use the word "heroes" nowadays. But let me tell you about this guy here (under a photo of Rick Van Blaricom). This week, he quietly retired as an EMT and put a cap on nearly 50 years in the Fire and Emergency Medical Service serving the Amery community. He was a part of the Amery Fire Department for nearly 40 years and is the longest serving Chief in the history of Amery, retiring as chief in 2014. (26 years as a chief). He started volunteering with the Amery Ambulance in 1975 and became the 3rd EMT in Amery's history later that year and has been working for 977 ever since.
Kari was 6 and I was 9 when our dad started in Fire/EMS. Growing up with dad missing Christmas Eve, school functions or family things so that he could help others was something that was the norm for us. But that minor inconvenience was nothing--after all we were the kids whose dad would bring the ambulance or the fire truck to show and tell day!
So, as you go through this time in our history where there is a lot of talk about who are our role models and what is a hero ( I may be a bit biased here) you need to look no further than our dad."
Daren's dad responded saying, "Thank you so much however most of anything that I was able to do was only because Bonnie and my kids picked up the family while I missed Christmas Eve, Christmas morning, birthdays and others. They are the heroes in my life."
In closing, Van Blaricom's daughter Kari said it best when she said, "We didn't miss out on a thing. Having both parents in healthcare taught us to care for our community, that a 'holiday' is just a date and you can have Thanksgiving dinner at 6pm and Christmas Eve at noon and it really doesn't matter as long as your family is with you. That taking care of friends and family in their darkest moments is a privilege not a job. That community service truly is a family affair. And that it's okay to stay out past midnight as long as you're on call with your dad. We've gotten far more out of this than we could ever say. Darren and I are where we are today because of who they are."