Somewhere in between batting practice and line-ups it dawned on Assistant Amery Boys Baseball Coach, Matt Humpal, that 2021 was the 40-year anniversary of the Amery Warriors Baseball team taking their first ever trip to the Wisconsin State Tournament.
A few calls later, and a handful of the guys reunited to talk about the old days before the June 4 game between the current Amery Warriors and Grantsburg. The laughter was just as strong as ever. Baseball Hall of Famer Leo Durocher once said, "Baseball is like church; many attend, few understand." The way the 81'ers lit up when they chatted about that season shows they certainly understood it and they surely haven't forgotten.
Returning to reminisce were catcher Jody Anderson, shortstop Lynn Tilton, first-baseman Geoff Beaver, third-baseman Jay Johnson, back-up catcher Chris Martinson and Assistant Coach Gary Osborn.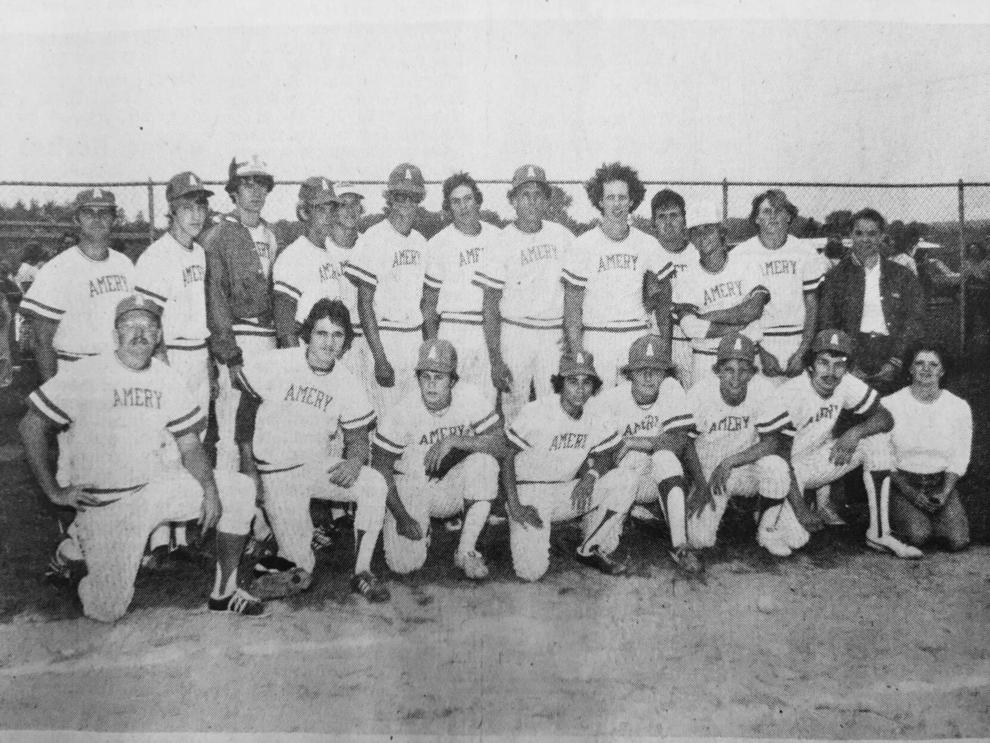 In the summer of 1981, these guys were the first baseball team to make it to the WIAA tournament in the history of Amery. The 1981 team finished the regular season with a 10-5 record, which was good enough for a first place tie in the Middle Border Conference. In the post season they went on the defeat Somerset, Ellsworth and St. Croix Falls. Over those three games, they out-scored their opponents 21 nothing. With the Sectional title they travelled to West Bend for the State Tournament and in the opening round they faced the host, West Bend, who defeated them 8-0. Maybe it isn't really about whether you win or lose, but rather about remembering the journey it took to get there. "For me the goal was just to get to State," said Beaver.
The 1981 Warriors finished the season 13-6 and paving the way for many more Conference, Regional and Sectional titles in the years to come.
Anderson said, "We broke that barrier of Amery baseball not getting to State." He remembers vividly the Sectional game in St. Croix Falls that sent them to State. "Dean Gehrman was pitching. It was a tight game. He had two strikes on the guy and I caught that ball. I ran out and handed that winning ball to Dean," said Anderson.
Tilton said he feels the Ellsworth win was actually a bigger one.
"Ellsworth was a good team back in the day," said Johnson.
Johnson said his memory from State was getting a base hit. "It wasn't a pretty one. It hit home plate and bounced high enough for me to run to first. It was good enough for me. My attitude going in was that there was no way I was going to strike out and boy could that dude could throw some heat, " said Johnson.
"I was mesmerized by how smooth that pitcher was," said Beaver.
"When they won up in St. Croix Falls to go to State, it was pretty exciting. The game they played at State was a night game, they had never played a night game and it made them pretty nervous," said Anderson's father Jim.
Besides having the home field advantage, West Bend had also played 32 games that season to Amery's 12.
They all agree though, that it was an amazing experience. "The seniors on the team were 18, we could drink. It was Boys of Summertime and we loved playing baseball," said Anderson.
"I was only a junior," said Johnson.
"Ya, but he acted like a senior," chuckled Anderson.
Beaver said, "There was quite a few of us who went through all of our Little League years together so that made it even more special."
Anderson agreed. "I caught for Ty (Harshman, pitcher) from the time I was eight-years-old to 18. I still believe Ty might have been one of the best pitchers that ever came through here," he said.
Tilton joined the crew his freshman year. Anderson said Tilton really completed the team as a shortstop and power hitter.
Anderson said, "We had really good coaching with Mr. Butcher and Osborne."
Assistant Coach Osborn reflected fondly of the boys. "I came to Amery Schools in '77, so these kids were my first students. I had them as freshman," said Osborn. "They were really talented and easy to work with. They cared about the game and they cared about each other," Osborn said.
The group, many of which continued to play baseball and softball for fun or through coaching, enjoyed the time catching up and were honored to be recognized that night at the ball field. Johnson said he couldn't believe anyone had even remembered them.