Editor's note: To mark the 75th Anniversary of World War II, interviews were conducted with living veterans. This is one in an ongoing series.
Al Stoddard was a week out of high school when he enlisted in the U.S. Army, following his two older brothers into the War. He served in the Army from 1944-1947 with the 71st Infantry.
Stoddard arrived at Le Havre, France in January 1945 where they trained at Camp Old Gold. The embarkation camps at Le Havre were named for cigarette brands: Lucky Strike, Pall Mall, Wings, Home Run, Herbert Tareyton, Twenty Grand and Philip Morris. After arriving, Stoddard's unit was loaded into box cars to travel east to the front lines. The 71st crossed into Bavaria after the Battle of Remagen.
Stoddard served as part of an anti-tank regiment, manning a 57mm gun. The division was in Stein, Austria when the war ended. They spent the summer with a gun squad every 200 yards with Russian soldiers across the river. Stoddard recalls the situation was dire for locals with very little food to eat and people stayed alive the best they could.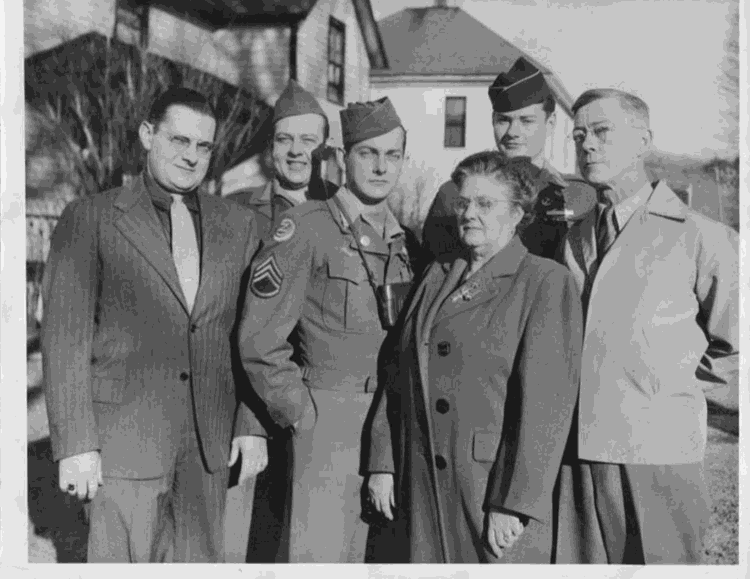 Stoddard was the youngest of four sons. His older brothers Eddie and Bob served in the war as well.
Bob served with a photo company in London. He was assigned to a unit at Oxford University, working for the British Admiralty, preparing detailed maps of the coast of France from aerial photography. The maps helped with the Allied Invasion.
Al received a visit from Eddie when he was working as a guard in Dillingen, Germany.
"I had just got off guard duty and went to bed in the monastery we were living in at the time," Stoddard said. "I felt a tug at my leg and awoke to see Eddie."
The older Stoddard had a week leave and came from Passau, Bavaria. Al said his brother and his buddy could stop at bases along the way to get gas and meals.
After the war ended, divisions were being broken up and everyone was anxious to return home. Departures were based on a point system. During this time many of the soldiers were encouraged to reenlist.
Stoddard didn't have points to return home and reenlisted with the promise of being home by Christmas, 1945. One of his fondest memories is walking through the front door of his parent's home in Decorah, Iowa at 8 a.m. Christmas Day.
Al's father owned a tire recapping and vulcanizing business in Decorah. On Fridays, he had a route he would drive to pick up tires at service stations. Stoddard's mother made a point of going along so she "wouldn't be alone if she received a telegram from the War Department."
After a 60 day leave, Al returned to Europe and spent the remainder of his time on guard duty, first guarding German prisoners of war. "There were 12 GIs and 500 German soldiers," he said. In Sept. of 1946, he joined the 787th Military Police Battalion and served in Paris, living on the second floor of a department store. His enlistment ended in April 1947.
He returned to his hometown of Decorah, Iowa and enrolled in Luther College. At college, he met Beatrice Johnsrud. They married Sept. of 1948.
Al taught business education, shorthand and typing in Boyceville and Washburn before coming to Amery in 1965 where he served as principal for 20 years, retiring in 1985.
Al and Bea had three sons: Greg, Scott and Christen. Christen died in 1985, Bea died in 2017. The couple have seven grandchildren and nine great grandchildren.
Now 94, Stoddard lives at River Bend in Amery.