The Amery Snowmobile Club recently held their Fourth Annual Vintage ride where riding classic sleds in the sun kissed snow with your sidekicks made participants feel like a kid again.
The club recently celebrated 50 years as an organization. The Amery Snowmobile Club was formed in 1969. Its original name was, "Amery Snow A Go Go." There were approximately 70 original members who formed the club and saw it as a way to enjoy the sport they loved, spend time with their families and meet others who had the same interest. The current President of the organization is Josh Nicholas.
The club stays quite busy. Nicholas said, ""The most important thing we do is sign and brush snowmobile trails to get people to visit Amery. We try to connect trails so people can visit from all over the state. We promote safe snowmobiling! We hold several events during the year, one is our Swap meet the second Saturday in October. We put together a Club ride, usually President's weekend; this year was Mercer WI. We try to hold a landowner appreciation dinner in the fall of the year; last year was a pig roast. We also give out landowner gift certificates when possible as a thank you to our landowners. We also try to give out 500-800 dollars for scholarship/s to Amery High School graduates. These are some of the things we do in the community."
This year's Vintage ride had approximately 20-25 riders on the 24 mile ride. "At the warming shed we had 50+ sleds at any given time and lots of folks having fun and telling stories. I'd say we had over 100 folks stop between 9 and 1pm, which was a great turnout on a great day," said Nicholas.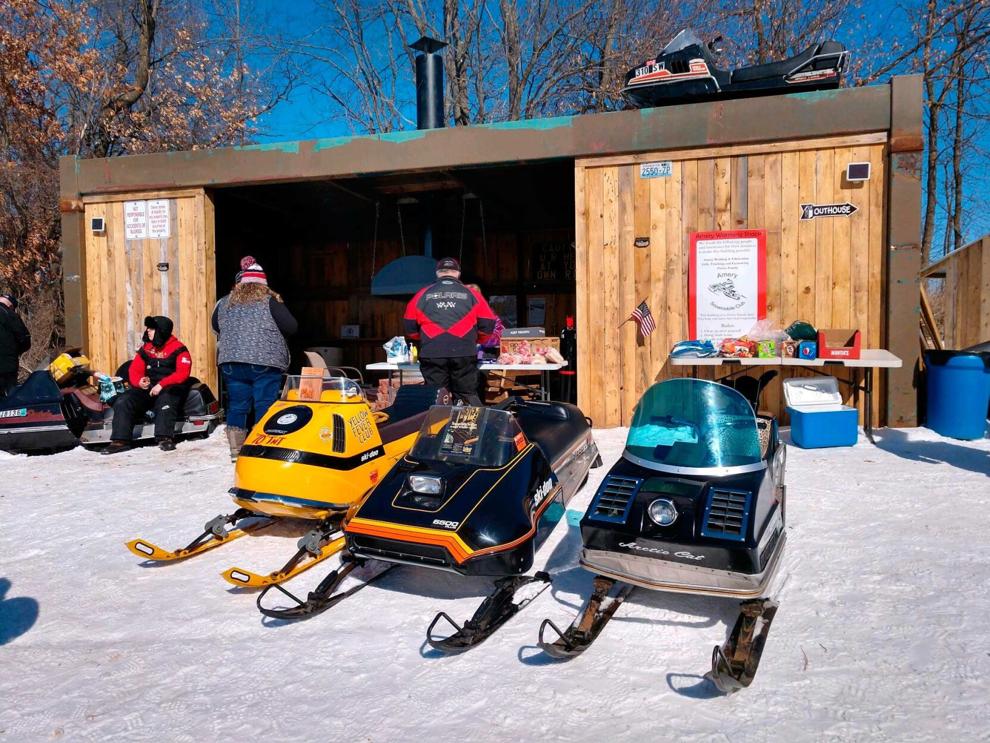 The warming shed has been great for sledders. The roof was donated by Gene at Amery Welding, the lumber from the Laurie Porter Family and the gravel from Dennis Gille. Nicholas said, "The building is a bit of a memorial to Laurie, as he was one of the earliest members of the Amery snowmobile club he joined in 1971-72 winter. Randy and Jack Porter have been involved with all aspects of the warming shed, from moving dirt to helping move lumber, they are always willing to help. The labor to build was all donated by members of the Amery Snowmobile Club."
Next year's Vintage ride is scheduled for Feb. 22, 2022.
As far as the future of the club, Nicholas said they would like few more connecting trails, including the Stower trail. He said, "It would be nice to have less zoom meetings and more in person meetings, like the good o'days."
If you are interested in joining the Amery Snowmobile Club you can visit their website www.amerysnowmobileclub.com. Nicholas said, "When safe we will resume monthly meetings in person third Tuesday of each month 7p.m. at the Amery Community Center. We email meeting locations before each meeting. Joining the club allows you to buy discounted trail passes for your sleds, meet new friends and be a part of a like-minded group- we like to snowmobile!"