Editor's note: To mark the 75th Anniversary of World War II, interviews were conducted with living veterans. This is one in an ongoing series.
When all of his other classmates enlisted in the Army after graduating from Duluth Central in 1944, Ross Smith enlisted in the Navy. It was August 1944 and Smith said his family was fine with his decision. "They knew I was going to end up somewhere as everyone was being drafted at the time," Smith said.
Shortly after Smith had graduated, his father bought a hardware store in Pine Island, MN. His parents moved to Pine Island at the same time that Smith left for the Navy.
He attended boot camp in Farragut, Idaho. Smith's most vivid memory from his first day of boot camp was his haircut. "It was terrible. We were all bald headed by the end," he said.
Smith said some of the clothes they threw at him on the first day of boot camp fit and some didn't. "It's hard to believe that was over 76 years ago. I was 17 when I joined the Navy. I turned 18 the same day I graduated from boot camp, October 25."
From there, he said, "I spent two years floating around in the Pacific."
He left Astoria, OR. on the U.S.S. Collingsworth.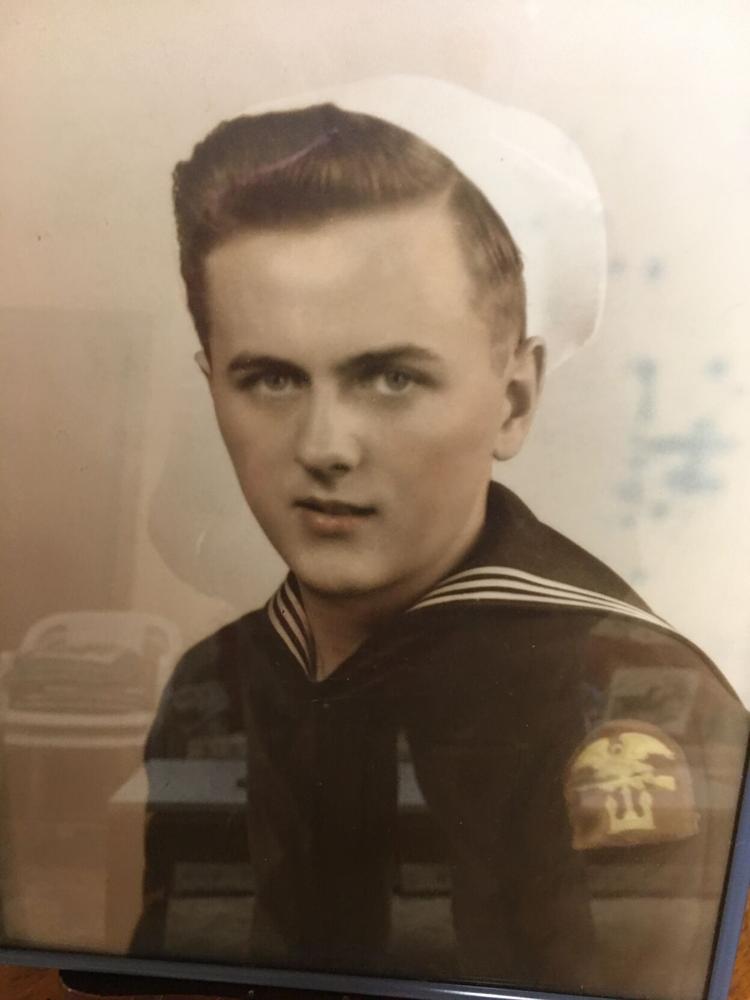 After one cargo voyage to Pearl Harbor, the Collingsworth sailed by way of Saipan and Ulithi to Okinawa, arriving August 12 until November 28 when she sailed with homeward-bound servicemen for Tacoma, Washington, arriving 19 December. She discharged her passengers and sailed for San Pedro, California, the Panama Canal and Norfolk, Virginia, arriving 28 February 1946. The Collingsworth was named for a County in Texas. She carried the same crew for the two years before retiring.
Smith said he wasn't really scared of serving. "It ended up that weather was more scary than war. Off of Okinawa, we were headed to Manila and we hit a typhoon. It was unbelievable. We were in the middle of the ocean and the waves were so high. I was watching from inside when I noticed we were completely under water. The wave went right over the top of our 500-foot long ship. The ship was shaking and next you knew we were on top of the next wave. I looked out and noticed the life-boats hanging from the sides were gone," Smith said.
He said there was no time to be scared. "We were going to drowned or get through it. We got through it," he said. Luckily no one was even injured.
Smith worked four-hour shifts on the troop-carrier ship bridge as a Quartermaster. U.S. Navy Quartermasters are experts in navigation. They stand watch as assistants to officers of the deck and the navigator. They also serve as helmsman and perform ship control, navigation, and bridge watch duties.
He said the ship usually had 500 people working and 1500 troops going back and forth. "The ship was what they call a Navy P.A., which is an attack transport. Our purpose was to drop the soldiers on the beach and to take back any injured. We had a pretty good-sized hospital on our ship," Smith said.
He said he was lucky that he was involved during the tail end of the war. "I was over by where all of the action was going on, but it was all being finished up. We had finally beaten the Japanese bad enough. What saved my neck was there were 500 ships sitting at Okinawa waiting to invade Japan. We knew they were waiting for us and that half of us might not be coming home. Truman dropped the first bomb, but they wouldn't give up. They ended up losing 1000s of people, but we ended up saving a million," said Smith.
He made many friends during his military career. A ship member who hailed from Sparta, WI put together reunions throughout the years where crewmembers could catch up with each other. Smith said, "We had 18 reunions; San Diego, Washington D.C., Minneapolis, Omaha, Las Vegas, Seattle-it was great traveling. I was nice because during the war, we were too busy with our jobs to socialize, these reunions helped us make up for it and we had some wonderful friendships."
Smith went on to purchase his father's hardware store in Pine Island. He married, had children and grandchildren. He noticed Amery on a map and decided to look into buying a cabin here.
He has lived in Amery full time since 1996.
Smith has been a proud member of the American Legion for 75 years.