"To enjoy your work and accept your lot in life—this is indeed a gift from God." —Ecclesiastes 5:19
After 14 ½ years, Pastor Eric Christenson and his family are leaving Amery's Free Lutheran Church to start a new chapter. Members of their church family were not going to let COVID-19 stop them from saying their heartfelt goodbyes.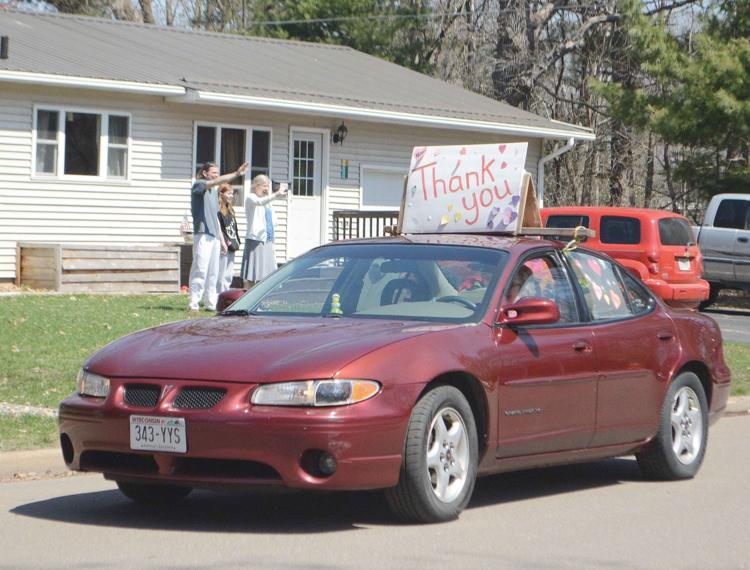 On what would be the Pastor's last Sunday with the church, members in 34 cars paraded past the Christenson's home with sendoff signs. Lois Van Someren said, "The car parade idea came from one of our members.  He had been hearing about parades for birthdays, end of cancer treatment and the like. He mentioned it to my husband and I ran with it. We felt like we wanted to do something for the last Sunday."
Christenson and his wife moved to Amery on October 31, 2005. The next day he started full time at Amery Free Lutheran Church (FLC). During their time here, daughters Macy (14) and Anna (12) were born.
It has been a joy filled two and a half decades. "It's hard to choose one favorite memory over these last 14+ years, that's kind of like asking to choose a favorite child. Some of my fondest memories include working with the youth group on Christmas plays—there are inside jokes we still share over ten years later. Also, our special services at Christmas and Easter have been some of the most meaningful times we've spent as a congregation. None of these experiences top the hours I've spent sharing my life with the people of Amery Free—crying, laughing, mourning, and rejoicing over the highs and lows of life," said Christenson.
He has accepted a call to serve as the Facilities Director at Free Lutheran Bible College and Seminary (FLBC) in Plymouth, MN. They are planning to move mid-May and he starts his new position June 1.
Christenson said the decision to move was an extremely painful one. "When the FLBC Schools first contacted me I was surprised and wasn't sure what to think. Yet, as I listened to their vision of the position, spent time in prayer, and received advice from trusted friends and counselors, I began to believe this was something God was calling me to do, which sadly meant he was calling me away from Amery Free Lutheran. It was a hard decision to make because this is the only home our kids know, they were both born here in Amery. And over these 14.5 years the people of Amery Free have become so much more than church members, they have become family and friends. While we are confident in God's leading and are even excited to see what he has planned, leaving Amery Free is hard and hurts. We have enjoyed living in this community and will be sad to move away," he said.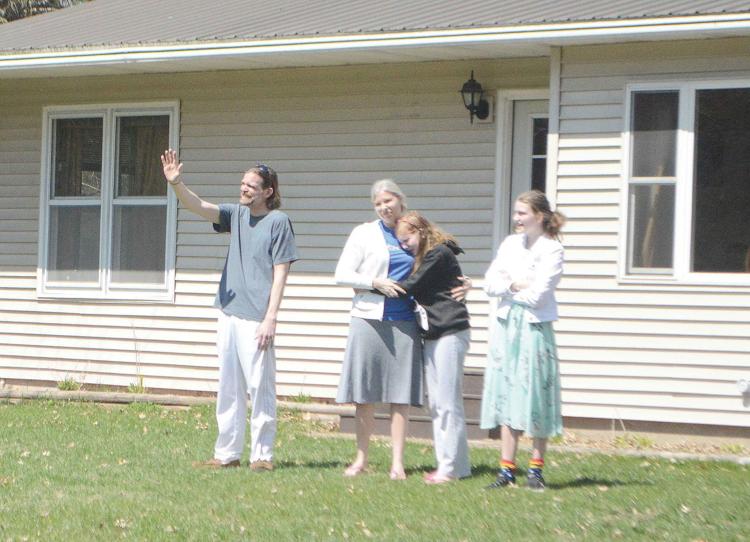 COVID-19 has recently seen the church experience different and made a good-bye a little trickier than normal. Christenson said, "Amery Free is a family and although we are grateful for the time in which we live that allows us to have virtual worship services and other touchpoints, it is not the same as being together in person. The hardest thing has been not being able to meet together in church, share communion together, or meet each other in our homes."
Sunday, April 26, the Pastor and his family were simply told to stand in their yard at 1:00 p.m. They then saw the train of vehicles pass by offering well wishes and sad good-byes. "We were completely surprised, honored, and humbled. We felt loved. It was so good to see so many people that we haven't been able to see since early March. We are so thankful that they would think to do such a thing for us, and can't believe that they were able to pull it off without us knowing," said Christenson.
Although members will miss Christensons, they wish them only the best. Van Someren said, "As for Pastor we will miss his wonderful, Scripture filled sermons.  Andrea, his wife is such an encourager.  Macy and Anna – well, we got to see them grow from infancy until now.  They are all part of our family.  As any family member you miss them when they are not there."
When it comes to what his family will miss most about Amery FLC, Christenson said, "We will miss the people. Our family has developed some good and deep relationships with the people and we will miss interacting with them on a regular basis."
In closing Christenson said, "1 Thessalonians 2:13 says 'And we also thank God continually because, when you received the word of God, which you heard from us, you accepted it not as a human word, but as it actually is, the word of God, which is indeed at work in you who believe.' I am so grateful that the people of Amery Free have received God's word from me for these years and it is my deepest desire that they will continue to receive God's word from the next pastor the Lord brings here."