A successful marriage requires falling in love many times, always with the same person. Such has been the case for David and Rosemary Meyers. Going strong after 63 years of marriage, the lovebirds are thankful every single day to have each other. 
The normally very social couple has been cooped up during COVID, but has made good use of their time. "There have been many things we did before that we cannot do now, but what we can do is pray together. We always have gratitude. I am so grateful to have David, he has almost been at death's door five times, but God had a continuing plan," said Rosemary.
Dave said he is grateful that he and his wife can sit together, look out at God's beauty from their living room windows above the Apple River and pray and meditate together.
"Our meeting was a gift," Rosemary said.
Dave went with his U of M college roommate to Duluth, where he was introduced to Rosemary, who attended St. Scholastica. Rosemary was adamant she was not interested in dating anyone.
"I was home one weekend and I was bored. Jerry and Dave knocked at the door and invited me to go swimming at Gooseberry. David was so nice to be with and I thought I better consider him. We started dating and fell in love and were married a year later," said Rosemary.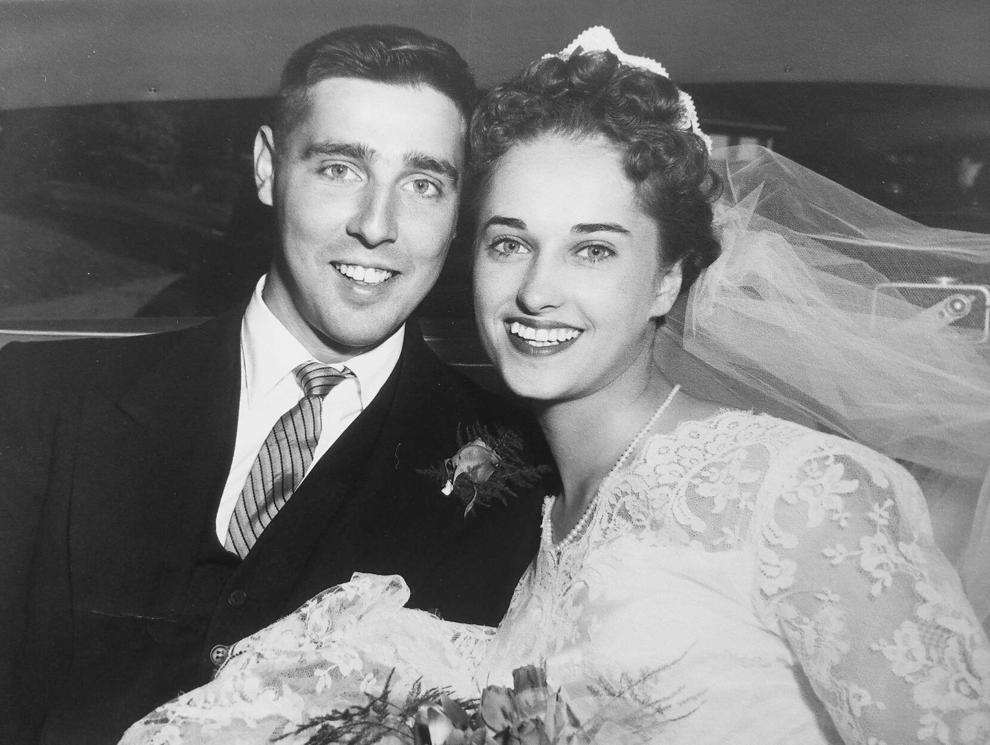 October 5, 1957 the couple was married at St. Frances Cabrini in Minneapolis. "There were a few snags," Rosemary said. "We were not thinking very well as we scheduled it during a Gopher game and the traffic was pretty bad. David's Grandma got caught up in football traffic and would have missed the wedding if our soloist hadn't forgotten to show up."
"Father, Jerry and David were sitting in the back of the church watching the football game, so they were not in any hurry to start the ceremony, which meant we had time to wait for the soloist," said Rosemary.
She said she started to cry because of the dilemma when the photographer said to her, "Don't cry, you will ruin my pictures and I am trying to set up a good reputation."
While listening to Rosemary share the story of their wedding day, David laughed and said, "I do not remember that part, but it sounds like it is a good part to forget."
The couple shared their honeymoon was driving back to Hampton Iowa for football practice. "Story of my life," said Rosemary. 
For a few years after, Dave would come to Rosemary and say he had an idea for a vacation. Each time he would say they should head up to Bemidji to watch the Vikings practice. "It would be like a belated honeymoon," he would say. Rosemary said, "One day the Vikings coach came over and said he was curious as to why we always came to their camp. David told him that he used to play for the Gophers and that now he was a high school coach. They thought that was wonderful and I was able to get my picture taken with Fran Tarkenton and Carl Eller."
Dave was in Graduate School a year after they were married. A conversation at Summer School with a young man, who coached in Amery and was heading to Chicago, opened the door for the Meyers to head to 54001 in 1959.
Rosemary said, "We said we would stay in Amery three or four years, but it didn't take us long to realize we loved this place."
Dave coached basketball, football and baseball. "That was really fun," Dave said with a smile.
Rosemary was a supportive coach's wife. She worked as a nurse and Dave worked as a psychologist.
After a stroke a little over a year ago, Dave has a hard time expressing his thoughts. "We get through it with a lot of humor," Rosemary said.
Rosemary was by Dave's side while he stayed in the hospital after his stroke. When they were allowed to return home, she took care of him there. Dave's memory had been severely affected by the stroke and after two months home with Rosemary, he asked if they were married. "I told him I sure hope we are because we have been sleeping in the same bed," said Rosemary. They both laughed and sat down and turned the pages of their wedding album together. As they did, Dave lit up when he told Rosemary how beautiful she had looked that day.
Rosemary said they are both very positive people. She said, "We have had tragedy in our lives, but together we stay positive."
She said, "We are just so lucky. We have four children, eight grandchildren and a slew of great-grandchildren with another one coming."
Dave said, "That is quite a few, isn't it?"
They feel their strong friendships they have made here in Amery have been a blessing. "Our friends are so wonderful. They have shared laughs with us and have helped us through many hard times," Rosemary said.
They say the biggest blessings of their marriage has been their compatible personalities, strong faith, joyful spirits, trust in each other and to have a clean plate; meaning not to bring up things from the past.
Every Valentine's Day Dave gives Rosemary three roses. "I always look at it as Christ bringing the two of us together as one," she said.
"One of the many things I love about my husband is his acceptance," said Rosemary.
Rosemary said one of the most powerful statements she ever read was one made by Ruth Bell Graham. She said the happiest marriage is the union of two good forgivers. "Isn't that beautiful? It doesn't mean that we do not have differences; together we just work through it," she said.